Tech Awards visionaries light the way ahead
The Tech Awards' 14th annual gala, presented by Applied Materials, was a phenomenal success November 13. Local and world luminaries gathered to celebrate The Tech' signature international program and honor 10 laureates who are using technological innovation to solve the world's biggest challenges.
As the San Jose Mercury News observed in a glowing event review, "Cannes has its film festival. Hollywood's got its Oscars. And Silicon Valley has its Tech Awards."
At the 2014 gala in the Grand Ballroom of the San Jose McEnery Convention Center, laureates received a total of half a million dollars, with $75,000 and $25,000 prizes awarded in five categories: Environment, Education, Young Innovator, Health, and Economic Development.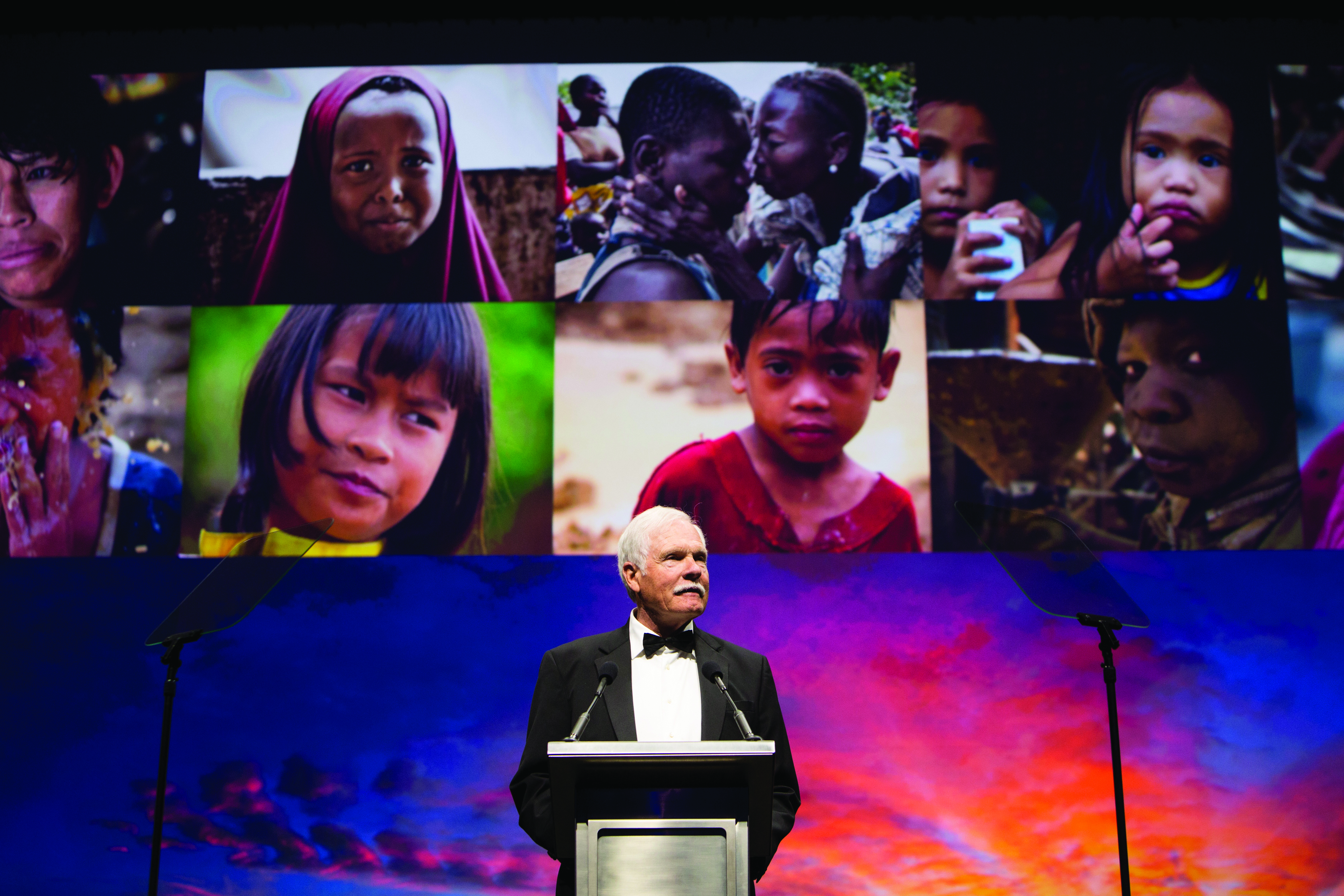 Philanthropist Ted Turner received the James C. Morgan Global Humanitarian Award and Sal Khan, a 2009 laureate, was presented with the inaugural Laureate Impact Award to honor the ongoing success of Khan Academy.
The Tech Awards laureates now number 277, and many have achieved global success. Since its inception in 2000, the program has awarded laureates $4.35 million in unrestricted cash prizes.
"The Tech Awards team is proud to shine a bright light on innovators who are designing and adapting technologies to improve the human condition," said David Whitman, Vice President and Executive Producer of The Tech Awards. "At the Gala, films, photography, music, and presentations portray the struggles and inspiring triumphs of the laureates."
The Tech partnered with Advocate Creative to convey the laureates' stories by traveling around the world to film the impact of their innovations, from dairy farmers in Mexico to mothers in Kenya. This is the second year of the partnership, and 2013's laureate films have earned 12 international awards.
The awards ceremony was also visually stunning thanks to a collection of images from many of the world's greatest photojournalists, curated for the sixth year running by legendary photography director Karen Mullarkey. Photographs were projected onto a huge screen in the ballroom. The photojournalists, National Geographic Creative, and other photo agencies contributed their work free of charge.
The 2014 artistic theme of The Tech Awards Gala was "darkness and light," which was explored in both the physical and humanistic sense. Throughout the event, hundreds of compelling images of Earth at night and of people in the darkest of circumstances showed on screen. They included images documenting child labor, environmental degradation, and conditions of the world's poorest people. One of the most affecting was John Stanmeyer's 2013 World Press Photo of the Year, depicting African migrants on the shore of Djibouti City at night, raising their phones to capture an inexpensive cell signal from nearby Somalia in hopes of talking to family abroad.
In a study in contrasts, photos of what families around the world typically eat and drink in a week were shown during the Gala dinner.
Thousands of people also took part in the ceremony through social media. People tweeted about how inspired they felt by the laureates, generating more than 16.5 million impressions worldwide.
The audience received autographed copies of Doug Menuez's acclaimed book "Fearless Genius: The Digital Revolution in Silicon Valley 1985–2000." Additionally, laureates and major sponsors received autographed copies of "Living on a Dollar a Day" by Tom Nazario and Renée Byer at the laureate film preview.
The Tech Awards Laureates 2014
Intel Environment Award
Inventive Power: Developed solar technology to generate thermal energy in industrial and commercial sectors in Latin America.
Source International: Provides technology and training enabling members of poor Latin American communities to examine their water, air, and soil for chemical contaminants.
Microsoft Education Award
Gooru: Provides an online platform for educators worldwide to personalize and share instructional content customized to students' individual needs.
Worldreader: Provides more than 200,000 young people around the world with training and e-readers with extended battery life.
Katherine M. Swanson Young Innovator Award
Nanoly: A team of young materials scientists from the University of Colorado is developing technology that eliminates the need to refrigerate vaccines.
PAK-Energy Solution: Developed an affordable biogas unit for heating and cooking in Pakistani homes.
Nokia Health Award
Gradian Health Systems: Developed a machine to deliver anesthesia without compressed oxygen or continuous grid power.
Operation ASHA: Created a system to monitor and track antibiotic delivery to tuberculosis patients in India.
Flextronics Economic Development Award
myAgro: Provides a mobile platform for more than 5,000 rural subsistence farmers in West Africa to save money for fertilizer and seed for the next planting season.
Sanergy: Builds healthy, prosperous communities in Africa's informal settlements by making hygienic sanitation accessible and affordable.
The innovator in us: refining the program
In an effort to improve The Tech Awards, our team made several program and process upgrades in 2014:
The judging process was brought in-house. Craig Stephens, professor of public health at Santa Clara University, served as consultant, and the panels were expanded to include academics, social entrepreneurs, and former laureates. We also introduced a two-tiered system: First-round evaluators winnowed applicants to 20 semifinalists per category, whose nominations were sent on to expert judges for consideration. This system allowed 25 finalists from five categories to be celebrated prior to the announcement of the 10 laureates, increasing awareness of the program and sponsors.
Staff for sourcing was increased to two team members thanks to the addition of an Encore Fellow, an experienced, retiring professional transitioning to a new stage of work with a non-profit. Personalized invitations were emailed to about 800 potential applicants. Thanks to a partnership with YouNoodle, a competition hub for early stage innovators, there was an increase of applicants in the Young Innovator category. Overall, we saw a 20% increase in applications from 2013.
Workshops and activities offered during Convergence — the days before the gala when laureates are immersed in networking, funding and media opportunities — increased in quality and quantity. From dinner at a donor's house to an afternoon of pitch-coaching with two local venture capitalists, the laureates were welcomed and introduced to VIPs at premier universities and corporations throughout Silicon Valley.