Cracking codes: New exhibits offer cyber-sleuth training, DNA engineering
A guiding question at The Tech is, "How do we create experiences that inspire the innovator in everyone?"
And, to dig a little deeper, "How do we encourage innovation itself?"
New exhibits at The Tech will unlock some answers. Building on the momentum of Body Metrics, sponsored by Kaiser Permanente, which opened fall 2014, two openings support a theme central to The Tech's identity.
"Inspiring people to use technology to solve problems is at the core of what we do," said Tim Ritchie, president. "The Tech is quickly becoming a community resource for innovation, and by focusing on creating our own exhibits, we're more agile and better able to empower our visitors."
An exhibit exploring online safety will help guests develop the skills to live a fulfilling and safe digital life while learning what it takes to be a cyber-security professional. The other will offer a do-it-yourself genetics experience, allowing visitors to manipulate synthetic DNA in a lab setting.
The offerings will go far beyond teaching about lab equipment or a computer virus.
"We're less concerned about having all the answers and more concerned about having the best tools that can be used by as many people as possible," Ritchie said. "We must provide our community with the necessary tools to solve problems and improve lives like never before."
Cyber Detectives
Presented by Palo Alto Networks
Opening summer 2015
Come step into the role of a cyber sleuth in the nation's first interactive exhibit about Internet privacy and online attacks. Guests will enter a training zone filled with games and challenges about passwords, encryption, phishing, malware, networks, and code-cracking. Then they'll test their new skills by taking on the role of a cyber security professional in a full-fledged game.
"People will walk away with the tools they need to stay safe online," said Lath Carlson, vice president of exhibits. "Cyber security is a fascinating field, and much more about people and human behavior than the scary stuff. We made it a point to keep the experience empowering."
Cyber security has been a hot news topic due to surveillance and privacy issues raised with the leak of NSA files in 2013, plus recent data breaches of multiple major retailers and companies.
"A few years ago, no one wanted to talk about online safety," said Michelle Maranowski, curator and exhibit content developer. "If you ask people about it now, they'll talk to you for a half-hour about how it's affected them personally, whether it's an elderly person setting up her first computer or someone monitoring protests in his hometown on social media."
The Tech's exhibits team designed Cyber Detectives with input from some of the world's top experts, including many from Silicon Valley. Security professionals at Facebook, eBay, Intel, Symantec, Juniper Networks, and the FBI helped create an experience that explores risk assessment, legal issues, privacy, authentication, and prevention of cyber crime.
"These men and women are the people responsible for keeping us safe," Maranowski said. "Being in the room with them was fascinating, and we can't wait to share a slice of their expertise with our visitors."
The exhibit is geared to both kids and adults, and there's good reason to get youngsters interested in such a career — the digital-defense field has seen 40 percent job growth annually. Innovative people who can mitigate constantly moving threats are in high demand. As criminals evolve their methods, security leaders must stay ahead of them.
"No two threats are ever the same, so it's an extremely creative field," Maranowski said.
Still, according to latest research, in 2013 women held only 11 percent of information security positions. In an effort to draw the interest of girls — who, our research shows, tend to gravitate toward activities in which they can help others — exhibit designers chose a recycling plant to be the fictitious business visitors will save after completion of their cyber security training.
"Security at its core really is about helping people," Maranowski said. "If people walk away with new skills to help them personally, great. If girls are inspired to pursue a career in tech and innovation, even better."
DIY Genetics
Opening Spring 2016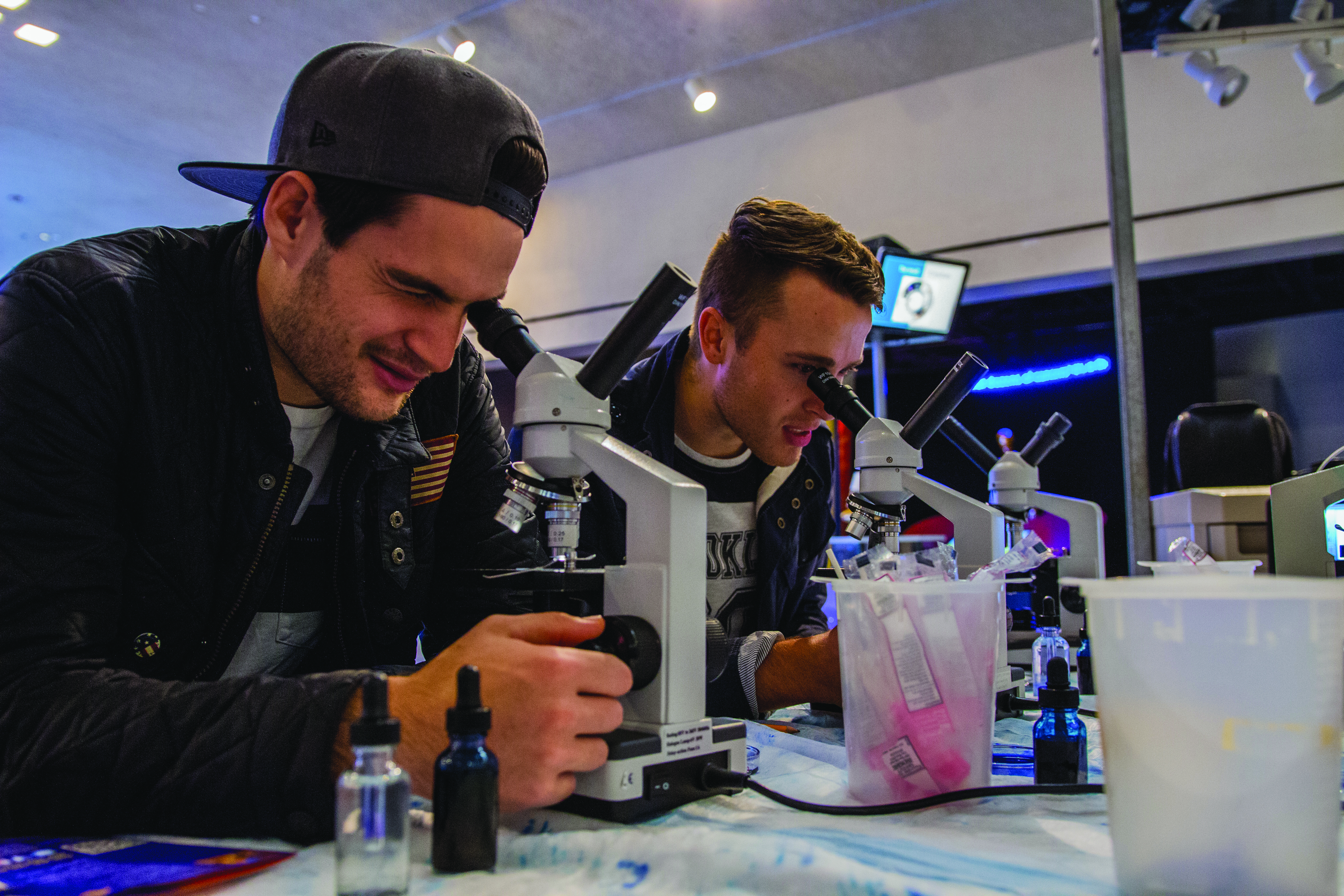 The Tech is poised to become the first museum to create a permanent space for the public to explore bio-tinkering. Its new DIY Genetics exhibit will include a biology makerspace where visitors will play with, design, and engineer synthesized DNA.
"To be in an age where people have the ability to truly engineer organisms, much like you would metal or wood, is incredible." Carlson said.
Harnessing the power of biological systems can help feed the world or clean up the environment. Synthetic biology is already used to solve some of the world's most pressing issues in agriculture, fuel, and medicine. One day computers may have bio-derived parts, and biosensors could be the norm in cancer treatment.
DIY Genetics will help the community feel comfortable using wet lab equipment, exploring biology and — most importantly — imagining the possibilities.
"Bioengineering is on the verge of some truly spectacular things," said Romie Littrell, curator and health and biotech exhibit developer. "We're excited to not only give our visitors a taste of it, but help them take part in it."
The space will include a living exhibit of engineered life along the lines of GloFish, a genetically modified fluorescent fish, or Golden Rice, a food altered to combat blindness in children with vitamin A deficiency. Such unusual life forms will inspire visitors to elevate their thinking about what's possible in the bold new realm of synthetic biology and dare them to imagine what has yet to be discovered.
"This exhibit will put The Tech on the map in the bio-tinkering community," Ritchie said. "But perhaps just as importantly, it will put bioengineering in the hands of all of our visitors who could potentially create new things, smells, or colors. We're truly inspiring the innovator in everyone."