With a raise of her hand, girl sparks appreciation for a new approach
By Danny Haeg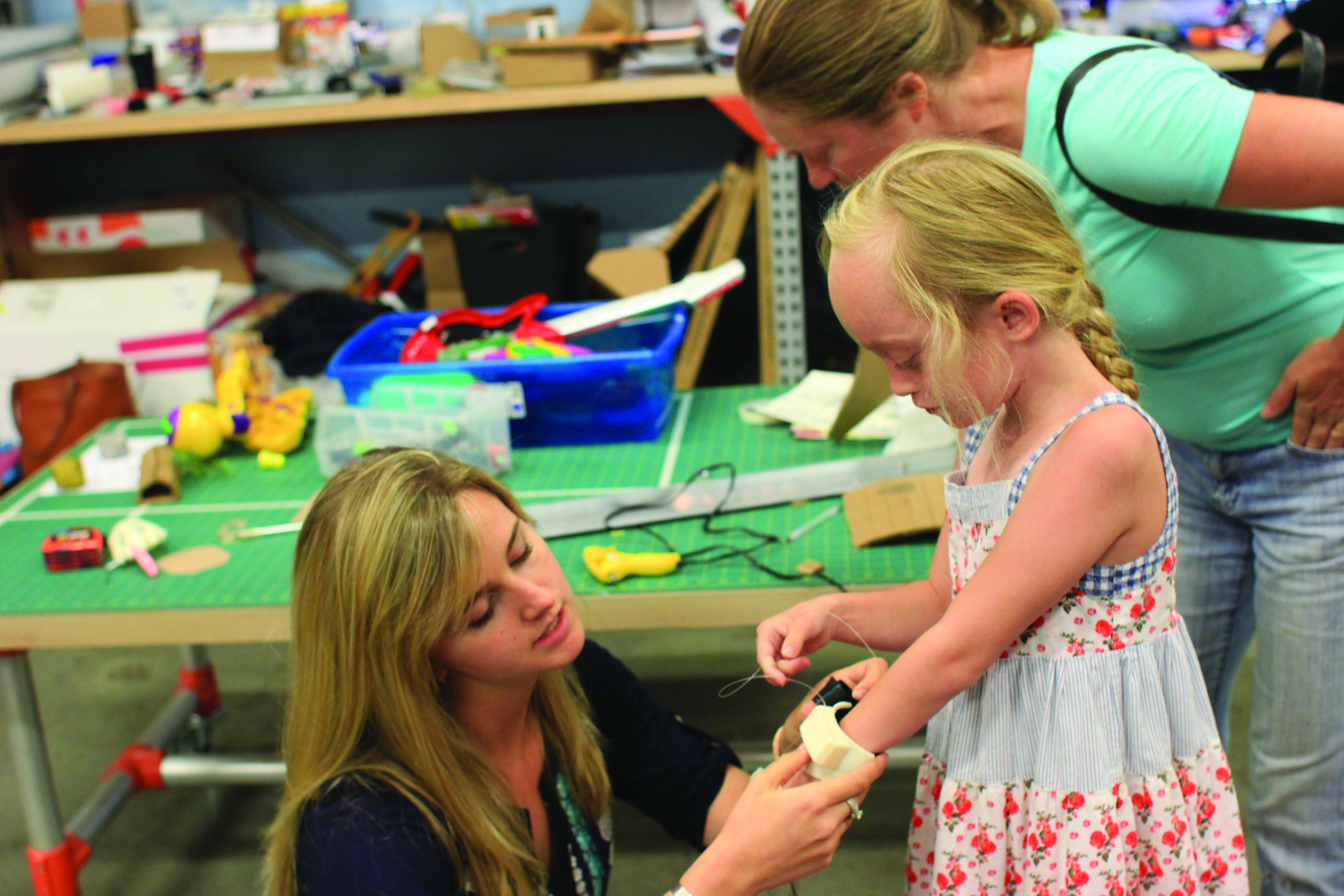 "What's that pink hand thing?"
I heard that a lot working at the 3D printer station in The Tech Studio. But this time it was different. The girl asking would ultimately make us rethink how we use our 3D printers and prototyping tools in the studio.
I turned around to see the speaker, who introduced herself as Ebba. The 9-year-old girl explained that she had just come from the electronics workshop we were hosting.
Before I finished explaining that the "pink hand thing" was a 3D-printed prosthetic that our intern Claire Gutermuth of Davidson College had printed, Ebba raised her left hand and interrupted me: "I COULD USE THAT!" Her left hand, she cheerfully explained, had been different since she was born — a few of her fingers didn't fully develop and this made it difficult for her to grab larger objects with one hand.
Claire, I later learned, had worked with Ebba all day in the electronics workshop. She had been struck by how passionate and bubbly Ebba was: She worked hard and her notebook was adorned with hand-drawn pictures of Toothless, her favorite character from "How to Train Your Dragon 2."
Claire hadn't even been aware that Ebba had an upper-limb difference. And, to be clear: Ebba has a difference and not a disability. She works and plays and jokes like any young girl with a great sense of humor.
We invited Ebba and her mother to return the next day so we could take measurements and generate a plaster hand cast for her own custom-printed prosthetic. This would help guide Claire's modifications of a 3D design shared by an online community called E-nabling the Future. Their design is a simple, all-mechanical device that is worn like a glove. It allows users to grab and release objects simply by bending their wrist.
The design experience proved useful for Claire. Her first encounter with 3D design software and printers had been only a few weeks earlier, on the first day of her summer internship at The Tech. Working on Ebba's new hand, Claire cycled through iterations — designing and 3D printing and then redesigning. Her first designs were rough and didn't even fit the plaster cast of Ebba's hand.
But Claire's progress was impressive, and well supported by thousands of like-minded enthusiasts who were all posting their modifications and advice on the E-nabling the Future forum. The online team helped Claire tackle the changes needed for this specific design and she, in turn, passed along her findings to them. After many test-fittings, Claire finally presented Ebba with her new hand on the stage of the Medicine X conference at Stanford.
The moment was dramatic and joyful for many reasons, but not because this hand would be a life-saving or life-changing device. At least not by its physical function. The notion of a 3D printed prosthetic hand is still new and relatively undeveloped compared to its $10,000 professionally customized counterpart.
But it has two important differences from that professionally made hand: It is cheap, and it is bright.
By cheap, we mean very cheap: $30 in plastic and miscellaneous hardware. This is particularly useful for young clients who might break or grow out of a particular hand. The greatest cost is just the time needed to measure, design, print, and assemble the hand. But, of course, Ebba's hand was given to her for free — just like every one of the thousands of hands printed by the E-nabling the Future community.
The brightness of the hand is part of the brilliance of this design. Pink and purple and blue — Ebba wanted her hand to be an eye-catcher. Her design — and this prosthetic design in general — are not intended to mimic a real hand, but rather to stand out.
And therein is the real genius of this hand: It's beautiful because it is different. We're so thankful Ebba came into our workshop and our lives; people like her inspire us to make more things beautiful and different.
Danny Haeg, formerly the manager of the Tech Studio, was recently named director of Creative Collisions, The Tech's new evening meetup series.